Upton Pharmacy
717 Pine St.
Upton, WY 82730
Phone: 307-746-3775
Monday – Friday
9:00 am – 1:00 pm
2:00 pm – 5:00 pm
Weston County Pharmacy
1124 Washington Blvd.
Newcastle, WY 82701
Phone: 307-746-2425
| | |
| --- | --- |
| Monday: | 9:00 am - 7:00 pm |
| Tuesday: | 9:00 am - 6:00 pm |
| Wednesday: | 9:00 am - 6:00 pm |
| Thursday: | 9:00 am - 6:00 pm |
| Friday: | 9:00 am - 6:00 pm |
| Saturday: | 9:00 am - 2:00 pm |
| Sunday: | 9:00 am - 2:00 pm |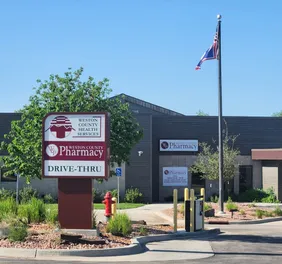 Weston County Health Services in wonderful Wyoming has two retail pharmacies. In Upton, the pharmacy is located inside the Weston County Upton Clinic at 717 Pine St. and is open Monday through Friday 9:00 am to 1:00 pm & 2:00 pm to 5:00 pm. In Newcastle, it is conveniently located at the left hand side in the front of the Weston County Health Services facility at 1124 Washington Blvd and is open 7 days a week – Monday 9:00 am to 7:00 pm, Tuesday through Thursday 9:00 am to 6:00 pm, Saturday & Sunday 9:00 am to 2:00 pm.
The drive-thru service makes picking up prescriptions easier! A portal is located in the WCHS parking lot which is visible to the pharmacy staff through a window over looking the parking lot. Being able to drive up to get medications gives customers the option to stay in their vehicle when a loved one or themselves are not feeling well. It is affords individuals the ability to not have to get out in bad weather. It is easy to send and receive prescriptions through the portal.
Our helpful Pharmacy Technicians, Kellee, Barbie, Lisa, Emma and Brandon are here to help anyway they can. Their pledge to help the community is evident in their willingness to go the extra mile whether it is handling refill authorizations, a pesky prior authorization from the insurance or that one over the counter item you can't find anywhere else. They are your go-to pharmacy technicians.
The willingness of our Pharmacists, Travis, Erica and Joy to answer your questions shows their commitment to the health of your family and our community. In addition to providing excellent care we also offer services such as Medication Synchronization, Medicare Part D comparison, benefit explanation and help with enrollment, Tobacco Cessation Counseling, Immunizations for Shingles, Influenza and Pneumonia, mailed prescriptions to anywhere in Wyoming, drive-thru so you don't have to get out of your vehicle and we bill for Medicare for diabetic supplies, nebulizer solutions.
Weston County Health Services wants to make it convenient for our community to care about living a healthy life. We want to be your community healthcare destination!